Cold storage monitoring is the best long-term wireless option for your reliable cold storage compliancy needs. This solution has ultra-low set-up costs, low network fees, reliable with built-in redundancy, guaranteed to work even during power outages. QuaeNet's cold temperature monitoring solutions meet all the compliance standards for food service, storage facilities, logistics and pharmaceutical industries.
Easy no hassle, wireless set-up

Automated alerts to your smart phone for predetermined thresholds

Automated reporting for regulatory compliance

Archived data for reduced liability of critical parameters

Restaurant refrigeration/deep freeze monitoring.

Pharmacy refrigerator monitoring

Hospital freezer monitoring

Q-Track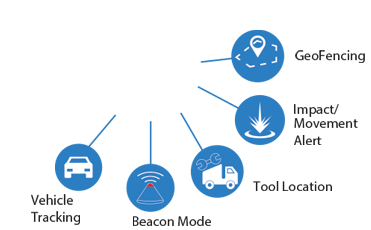 Asset management has the largest breadth and depth of solution options, from geofencing to motion sensing and everything in between. This technology provides proactive notifications ensuring you are aware of your assets, their location and interactions they may have throughout the day.
Serving construction, property management, transportation & logistics, municipalities and other large organizations with various asset tracking demands. Save time, money and effort not having to chase down or lose expensive assets.
Geofencing of assets – a predefined home zone in which the asset is residing. An alert/alarm is set when the asset leaves the "home" zone.

Real-time/near-time tracking and on demand tracking/location pinpointing, requesting the current location of asset.

Impact/sudden motion sensing, intended for tools and resources. Be alerted when items are dropped or moved.

Beacon mode designed for primarily static assets, the sensor detects motion and sends an alert.

Asset tracking of lone workers, pallets, vehicles, tools, heavy machinery, and more.

Q-Farm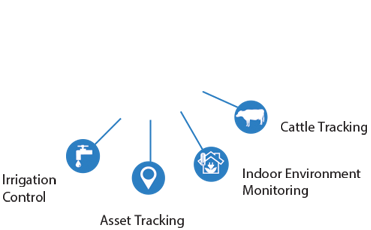 QuaeNet offers multiple smart solutions to ensure more productive and effective farming practices. These various solutions help farmers produce improved efficiency, reduce costs and increase product yield.
Cattle location and behavioural anomaly tracking — improving the safety, health, security and analysis of the bovine through its lifecycle. Coming soon.

Soil moisture measurement levels, ensuring soil has the adequate level of water required to create the prime yield of crops.

Soil health monitoring, recommending to farmers the best course of action to maximize a healthy crop.

Q-Cities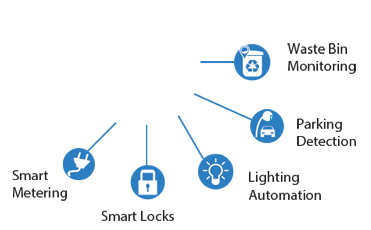 Smart cities require a multitude of solutions, from parking space monitoring to smart lighting, QuaeNet has the customizable solutions for your smart city needs. Reduce expenses, resources and liability while increasing city revenue through better utilization of assets. QuaeNet's solutions cover a wide area of applications for not only monitoring but control and analysis enabling insights for improved service and programs.
Outdoor lighting solutions

Asset tracking of all types of resources

Remote locking for restricted area access

Waste management monitoring

Metering of outdoor gas, electricity and water resources